Classifies your Home Space
Have you ever heard that this particular house was sold due to the " Espresso machine" built into the kitchen wall? Well the same goes true for antiques, architecture pieces and a overall " look" of a home.
What sets us apart for other Home Stagers" and Interior Designers is our unique ability to create an " Entire Estate Manor " it's not only the " interiors" but if not more important is the " Exterior" thus giving a Curbside Appeal ".
Most of these designers who did all the grand estates are long gone or on there last leg and only a few on the world studied the styles as we did.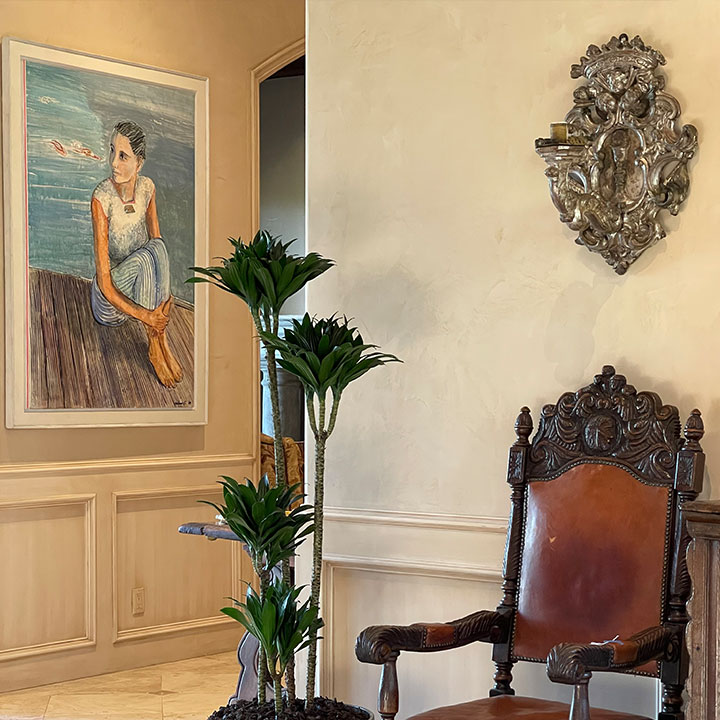 Rancho Santa Fe interior design / staging job 2021 Iranian Contemporary artist with a 18c Italian pr of wall sconces
While it is a enormous task transporting heavy and massive garden pieces to finish off a property the end result is fantastic. Do not worry we will Handel it!
Transporting massive heavy antiques across the Atlantic or 3000 miles let's say from Conniticut to California is a sense of pride and the " finished product" achieves a " upmost pleasure" for THOSE than know the difference between " New" tacky horrendous plaster statues / moldings etc and 100 year old stonework made by hand outside of London in the 19th century.
We at Rue Michelle are as well experts at " Moveing Antique and heavy logistics" we also have a shipping company for 29 years and ship across America and the world, so we are able to have and pass on the savings of un marked up prices on shipping in turn which equals savings on transportation of antiques ; So we are able to pass savings that to our clientele. Use our shippers to cut out the expensive mark ups by shipping companies.
Most International clients when considering buying a Tuscan Home , Italian Home Mediterranean Home ,Parisian Home , English Manor,Palladian " style" Contemporary Home, Mid Century Modern Home are affluent to " detail" and have traveled the world and if not yearn the desire to create and learn one but just don't know how to do so .
These clients then in turn are persuaded to build and design from a lack of knowledge and unqualified designer who is a family friend or leaches on a social club for contacts then who charges a fortune and creates less than adequate job with a end result of a mid level B minus design job which should have been done right in the first place from the first day this making the home and the " Clout" of that clients home on the upper eschelon for International Market taste for that home in that neighborhood.
Our mentors were the 1st museum docents of the Hearst Castle in San Simeon starting in the late 1950s they taught me in the early 1990s how to design big time.
During that time they were trained in the early days of what a "Grand Estate" and " Villa" looked like as William Randolph Hearst had agents all over the world bringing in massive " Architectual pieces" from gates to Roman 2nd C. AD to Garden Urns to antique fountains when building the Hearst Castle.
We then gratefully inherently learned this style of " Classical Design" thus French , Italian , English , Spanish ,Tuscan from our mentors and would live to pass it on to the world.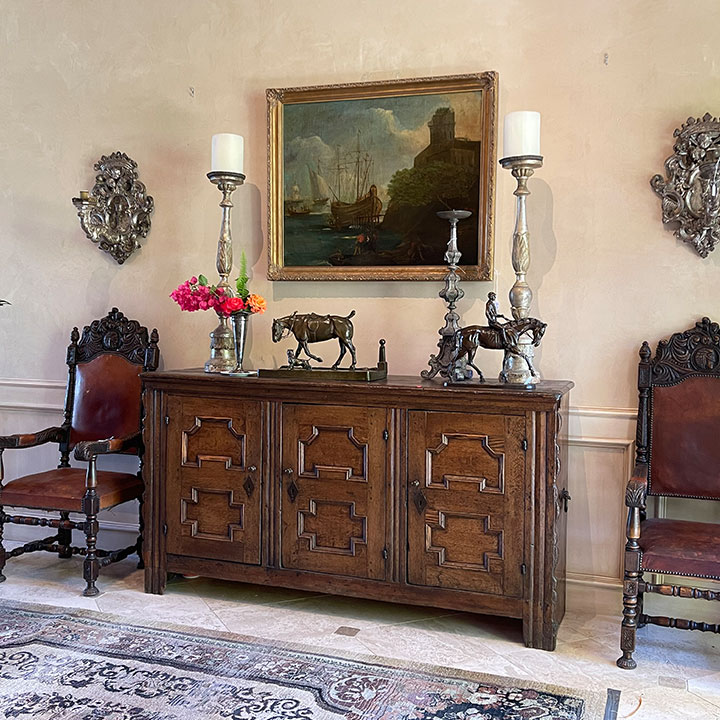 Staging & Interior Design Rancho Sante Fe Estate sold for 17 million,2021
Mixing modern with antiques , a fantastic and rare monumental Sergio Bustamonte copper horse with a Curtis Jere " Rain Drops " sculpture combined with 18c. Italian antiques In a Villa in Rancho Sante Fe designed by Rue Michelle. 2021
With upmost certain having these fine antiques and Garden stone items items in a Estate / manor will achieve massive value increase of the price of a home in addition to selling quickly as there is " No other like it" especially when the Real Estate market gets flooded and drops as if historically does every 10 years.
We also sell our items in a home that is "staged" and pay a commission to Relators.
Your clients deserve the best and we know how to achieve that.
Most people in the world made there money and fortune doing unique businesses and they know they like certain taste , styles or what they have seen but not quite sure what is or how to do it. We are leading experts in this field worldwide of many styles of design .
" But I don't like antiques". Fine. We at Rue Michelle can achieve all styles as we are very diverse in decorating ALL styles ,as I started with a " Classical Furniture" style thus French Formal Home, French Country Home ,Italian Home , Tuscan Villa Home , Mediterranean Homes,English Country home, Spanish home etc.
I later gravitated towards " Modern Design" and was among the first in the world "mixing". modern Art with Classical Furniture" and Contemporary design in the 1980s
I grew up in La Jolla in the 1970s and would see 20 foot Henry Moore modern sculptures all over the La Jolla streets and in the parks as a kid I thought this was " normal" boy I would love to get ahold of one of those now , turns out a grade school friends dad was bringing them in and ended up if not the the top dealer in the world on Mexican art.
My family home had Francoise Gilots" (School of Paris 1940s ) art everywhere as my mom was the first in the world to " archive " her work. After living with Pablo Picasso for 13 years she then married Johnas Salk who helped discover the Polio Vaccine and lived in La Jolla by us and became very good family friends, so Modern Art goes natural to me.
Caught between 2 loves " Classical furniture and modern art in the 80s I lived the best of both worlds.
We are just as much leaders in Contemporary Art Design to Mid Century Design as Classical Design ( see our portfolio)
As for Developers of Commercial Property and Development to Home Community's , They have raised the money and often hire( limited in depth) designers / landscapers to finish off the property, it's not there fault they just never had the opportunity to learn it right as we did. We're here to help don't do it wrong the first time.
While it is very important to make a " Section" of the development nice and enjoyable , We have seen awful foam or plaster molded B minus hitious fountains / walls in a massive multi million renovation and there is ABSOLUTELY no reason for this. It's everywhere in Southern California.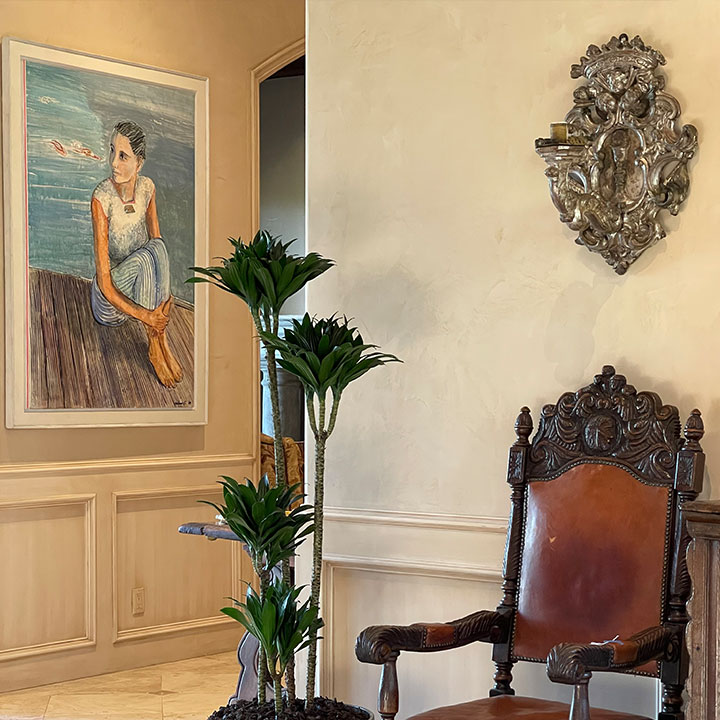 Rancho Santa Fe interior design / staging job 2021 Iranian Contemporary artist with a 18c Italian pr of wall sconces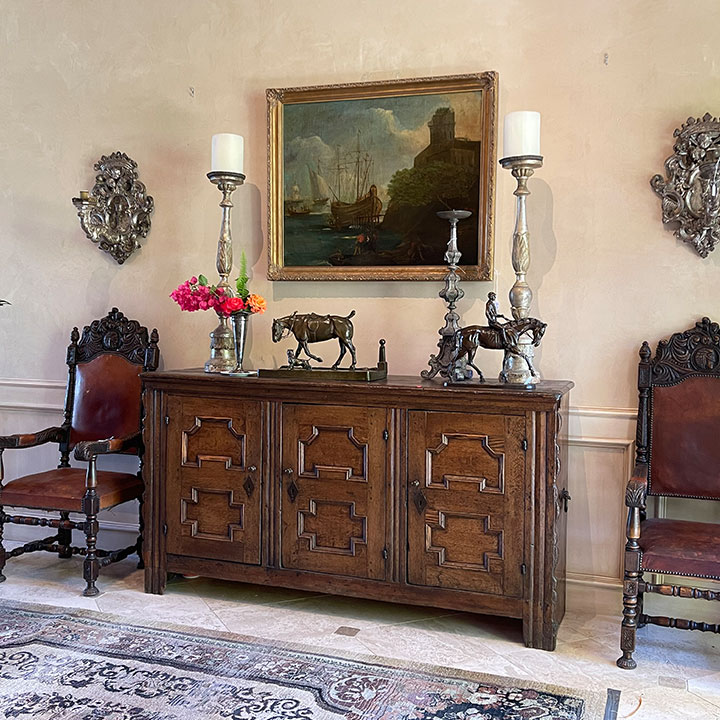 Staging & Interior Design Rancho Sante Fe Estate sold for 17 million,2021
mixing modern with antiques , a fantastic and rare monumental Sergio Bustamonte copper horse with a Curtis Jere " Rain Drops " sculpture combined with 18c. Italian antiques In a Villa in Rancho Sante Fe designed by Rue Michelle. 2021
latest collection of Antiques