Services
Estate Sales
We have a "Classical furniture" background thus French , Italian , English furniture /art etc.
My first mentors in the early 1990s were the 1st Docents of the Hearst Castle, we used to handle the-acquisition antiques such as 18c inlaid marble tables with iron bases to Roman Columns 2 -3 c AD.
My other apprenticeship was working for some of the leading dealers who were SF and London taught on 18/19c. European furniture and Asian antiques.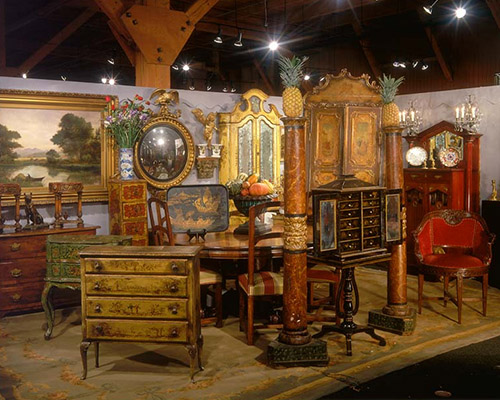 Thus all the Grand estates and collections of the 18-early 20c were always Classical furniture mixed in with "Asian accents" Buddha's, Chinese paintings, Chinese furniture etc.
However we have an emphasis on buying /brokering Chinese Antiques as well as European.furniture and Art.
I have attended all the auctions and lectures at the auctions for Asia week in both London and New York thus handling fine Chinese antiques. I have attended lectures at the auctions on all aspects of Chinese antiques and paintings.
I went to school in London and graduated from Sotheby's London on Chinese Art.
In 2018 I represented and brokered one of the finest collections of Chinese art to come to the market in recent years, The Francis Chew collection of Chinese paintings where as I hold the world record for a Chinese artist sold outside of Asia, a Chien -Dai Chien. The Academic community and scholars worldwide know Rue Michelle brought this important collection to the market.
The same year after working on another prominent worldly collection for 3 years I was asked to broker one of the finest collections of 954 Tibet Thangkas in the world from a Nobel laureate in Switzerland . I flew to Zurich 3 times and worked on the collection where I was able to broker it to the leading Chinese museum in the world ,they were going to buy it for $10 million USD and build him a wing next to the famous Chinese concert pianist that they built a Wing for all up to date laser and state of the art amenities.This would have made this 40 year collection a "focal point" for all future upcoming young scholars to study"
After winning the nobel prize the collector Scientist focused his studies on the "3 dimensional aspects of Thangkas"The collection also was also analyzed on the paints and pigments used in the 18century. to the 15 century as some pigments ,colours change colours after 60 years the Nobel chemist told me on video in the basement of his home.
I was going to make it a 'mandatory teaching section in the museum under the contract I was to propose.
I had a friend at a European museum make some contacts to the leading museum in China and Taiwan .The client chose not to sell it to China for what they did to Tibetan people however he was lecturing at the University just a few years back so go figure? He decided to sell it at auction where it brought a fraction of what we had it sold for. They were after his collection for 15 years.
The collection is now destroyed and dispersed worldwide and almost impossible to ever be put back together for viewers and studies.
We work with a network of leading dealers , collectors, museums and auctions worldwide.
We are among most connected dealers and art brokers in California.I will fly anywhere in the world to look, appraise and buy a collection or even a single piece.
I have the world record for a Chinese artist outside of Asia and are known worldwide for this and the important thangka collection so many Museums , Collectors , International dealers and clients are willing to work with Rue Michelle antiques as it is a proven success in Authenticity as there are many fakes and fraud out there.
Some places won't do business with certain people / dealers due to the hi counterfeit and fakes of Chinese art whereas they use the same clay same technology even down to the " wood " used to burn the Kilms.to produce fake ceramics,porcelain ,art and then falsify fake Provenance (where it was acquired)
Chinese art and antiques is the most faked section of antiques in the world now next to Modern art and Old masters and Italian furniture. However Chinese antiques fraud seems to be the leader in this.
Don't chance you're collection with inferior representation as collections can get " blackballed" with just one wrong opinion.
latest collection of Antiques
We Buy
Antiques